Podcast: Play in new window | Download (Duration: 34:08 — 31.2MB)
What Penguin Random House's sales conference and warehouse are like. Plus, don't forget about The Sparrow by Mary Doria Russell, or Any Human Heart by William Boyd.
Thank you to the Twitter user who confessed her initial disappointment with Booktopia talk episodes, but quickly said that she always ends up loving them! We understand!
Audiobook of the week (02:13)
The Good Girl by Mary Kubica, told by multiple narrators, is Ann's pick for this week's Audiobooks.com Audiobook of the Week.
Special thanks to Audiobooks.com for sponsoring this episode of Books on the Nightstand.
Audiobooks.com allows you to listen to over 40,000 audiobooks, instantly, wherever you are, and the first one is free. Download or stream any book directly to your Apple or Android device. Sign up for a free 30-day trial and free audiobook download by going to www.audiobooks.com/freebook
What We Did On Our Podcast Vacation (06:08)
In this episode we share with you an inside peek at what a publishing sales conference is like (or what ours is like at least!). What do we discuss in the meetings? Who do we trust for recommendations?
A very special feature of this sales conference was the tour of our warehouse located in Westminster, MD. It's an amazing place filled with dedicated and hard-working people. Here are a few statistics:
1.25 million square feet (1.5 million counting mezzanine areas)
14 miles of conveyor belts
110 million units in inventory, on average
1 million books shipped per day, on average
Wow! It's a magical book land!
Don't You Forget About Me (21:59)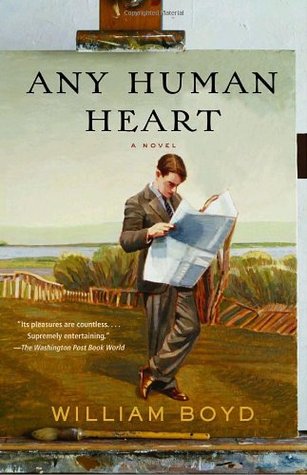 Because of the upcoming book group discussions with Simon and Thomas of The Readers, at Booktopia Petoskey, and because we're encouraging online discussions, this month's Don't You Forget About Me features our favorite books of all time. They're books that have stayed with us over many years.
Ann's is The Sparrow, by Mary Doria Russell. Described by the author as the story of "Jesuits in space," it's a science fiction book that has been read and loved by so many people who later said they don't read science fiction. At its heart, it is the story of a man of faith whose faith is tested. He just happens to be on a mission to make first contact with beings on another planet.
My selection is Any Human Heart by William Boyd. Told via the journals of Logan Mountstuart, this novel gives a tremendous look at a life that spans most of the twentieth century. It's also constructed as if Mountstuart were a real person, and includes footnotes, an index, and notes from an unnamed editor.