Podcast: Play in new window | Download (Duration: 40:24 — 37.0MB)
Earlier this week, I was honored to be a guest on the Covered podcast, hosted by Harry Marks. Harry and I talked about The Life-Changing Magic of Tidying Up by Marie Kondo. I had a great time, and I hope you give it a listen … and check out the other episodes of Covered, too!
Audiobook of the week (02:49):
Sweetland
by Michael Crummey, narrated by John Lee, is Michael's pick for this week's Audiobooks.com Audiobook of the Week.
Special thanks to Audiobooks.com for sponsoring this episode of Books on the Nightstand.
Audiobooks.com allows you to listen to over 40,000 audiobooks, instantly, wherever you are, and the first one is free. Download or stream any book directly to your Apple or Android device. Sign up for a free 30-day trial and free audiobook download by going to www.audiobooks.com/freebook
The Writer on the Page (07:58):
Michael and I were recently interviewed by Julia Pistell (of the great Literary Disco podcast), for the opening event of the 4th Annual Writers Weekend at the Mark Twain House and Museum. One of the questions that Julia asked us inspired this episode. Julia asked if, as readers, we think about the author as we read.
Michael loves to notice beautiful sentences, while I prefer to get lost in a story and sometimes feel pulled out of a book if the author's hand is too visible. But in the end, I feel that Michael and I are probably more similar in the way we read than we we are different. Writers and readers, we'd love to hear your thoughts. Please leave a comment hear, or call our voicemail line (209/867-7323) and leave us a (short) message.
Books mentioned in our discussion:
Girlchild by Tupelo Hassman
Dept. of Speculation by Jenny Offil
The Sense of an Ending by Julian Barnes
The Painter by Peter Heller
A Little Life by Hanya Yanagihara
God Help the Child by Toni Morrison
Atonement by Ian McEwan
On Chesil Beach by Ian McEwan
The Girl on the Train by Paula Hawkins
Defending Jacob by William Landay
Two books we can't wait for you to read (29:05):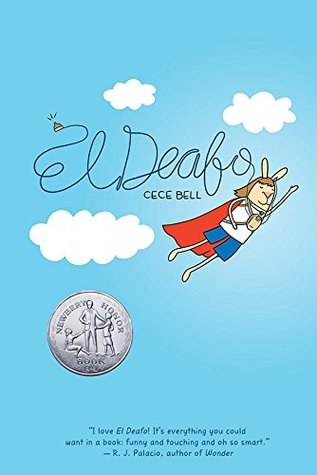 In this episode, Michael recommends El Deafo, a graphic memoir by Cece Bell. The author, who lost hear hearing at the age of four, tells about growing up deaf in a hearing world, and being helped by a Phonic Ear that allows her to hear. It's smart and funny, and deserving of its status as a Newbery Honor Book.
My pick this week is The Folded Clock by Heidi Julavits, which is a diary of sorts — it's a series of entries that the author put together from a few years of her own diary entries, combined in a non-chronological way to tell the story of Heidi Julavits, wife, mother, writer, traveler. I really loved this book, which read to me like a very cohesive collection of essays. Each entry starts with "Today I…" and it made me want to start a diary of my own. Check out Heidi's tumblr for the book, too — it's really wonderful.