Podcast: Play in new window | Download (Duration: 27:35 — 25.3MB)
Subscribe: iTunes | Android | RSS
 All the Light We Cannot See; Michael shaves his head; Twists and spoilers; We Were Liars
We can't read this, but you totally should:
The book that is at the top of my "want to read" list is a book I won't get to read until my summer vacation. But it's been getting so many raves and reviews and so much love from booksellers and others that I trust, that I don't want to wait to recommend it to you. We may do this from time to time, since so many of you love to hear about what's new and what's getting buzz. All the Light We Cannot See by Anthony Doerr has gotten amazing reviews, is a #1 IndieNext pick for May, and is much-loved by so many of my bookselling friends.
 Audiobook of the week (06:48)
 The Fault in Our Stars by John Green, narrated by Kate Rudd, is Michael's pick for this week's Audiobooks.com Audiobook of the Week. While it didn't make Michael cry, I know many others who did need a tissue or two while listening to this audiobook.
Special thanks to Audiobooks.com for sponsoring this episode of Books on the Nightstand.
Audiobooks.com allows you to listen to over 40,000 audiobooks, instantly, wherever you are, and the first one is free. Download or stream any book directly to your Apple or Android device. Sign up for a free 30-day trial and free audiobook download by going to www.audiobooks.com/freebook
Michael Shaves his Head at 08:56: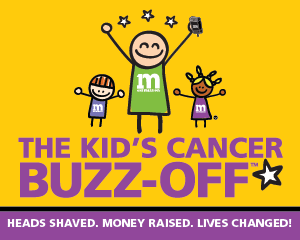 This was mentioned in the Audiobook of the Week segment, but I don't want anyone to accidentally overlook it:  On June 8th, Michael is having his head shaved as a way to raise money for cancer research. If you'd like to donate, check out Michael's page or Buzzforkids.org before June 8, 2014.
Jaw-dropping books: (12:43)
This segment was inspired by a discussion on our Goodreads group: "Jaw-Dropping Books?". Though the original poster asked for recommendations of "jaw-dropping books' like Gone Girl, I worry that talking about a "huge plot twist" is a form of spoiler. If I know there's a big twist or surprise, I keep that in the back of my mind as I read, trying to anticipate or predict what the twist will be.
So we've decided to create a short poll:
Create your free online surveys with SurveyMonkey , the world's leading questionnaire tool.
If you can't see the survey, please follow this link to answer.
Feel free to share this survey with your book-loving friends. The larger the sample size, the more accurate the data! Thanks.
One book we can't wait for you to read: (18:55)
At the end of last year, one of our trusted colleagues at work sent a manuscript to me and Michael saying, "You have to read this." The book was We Were Liars by E. Lockheart. It's a book that will appeal to both young adults and to adults, who may or may not like YA books. It's the story of a young 17 year old who has suffered an accident, but doesn't quite remember the circumstances around the accident. Now, two years later, she's returning for the first time to the private island where her very wealthy family has a summer compound, and where the accident happened. We can't say more. Really. We can't. Just read it. We think you'll love it.
Author E. Lockhart will be joining us at Booktopia Asheville in August, and we'll post her author talk on a future episode of Books on the Nightstand.