Podcast: Play in new window | Download (Duration: 34:33 — 31.7MB)
Subscribe: iTunes | Android | RSS
New literary holidays. Separating the author from their work. And we recommend Byrd by Kim Church and The Fever by Megan Abbott. 
Happy Tom Sawyer Days!
Ann and I are making progress on our BOTNS Bingo cards. I'm reading books then seeing if they can count for any squares. Ann is letting the Bingo card guide her reading. If you haven't printed your card out yet, check out our original post for instructions, and the link to get your own card.
Don't forget to call our voicemail line (209.867.7323) and share your views about the discussion we had in episode 286 about the recent trend of critics and other writers decreeing what people should and shouldn't be reading.
A recent article on Bookish.com featured some new literary holidays to celebrate, and further Googling revealed others. Of course, the original bookish holiday is St. George's Day (April 23, the day of Shakespeare's death), which is now when World Book Night happens. And, Dr. Seuss's birthday is now Read Across America Day. What about you? Will you be celebrating Tom Sawyer Days this weekend? Or Hemingway Days later this month?
Audiobook of the week (11:55)
 The Fever by Megan Abbott, narrated by Caitlin Davies, Kirby Heyborne, and , is my pick for this week's Audiobooks.com Audiobook of the Week. It's also Ann's "Two Books" pick later in the episode… Sorry, Ann!
Special thanks to Audiobooks.com for sponsoring this episode of Books on the Nightstand.
Audiobooks.com allows you to listen to over 40,000 audiobooks, instantly, wherever you are, and the first one is free. Download or stream any book directly to your Apple or Android device. Sign up for a free 30-day trial and free audiobook download by going to www.audiobooks.com/freebook
Separating the Author from their Work (14:49)
It's another thorny subject this week: Should an author's personal life affect how and if you read their work? A recent NY Times Bookends article asked the question. That, plus the recent accusations against Marion Zimmer Bradley got us thinking. It's something we've both struggled with: Ann with letting her daughter read The Mists of Avalon, and me with whether or not to read Ender's Game, by Orson Scott Card, whose opinions on certain subjects are the polar opposites of mine.
Is your reading or your perception of authors affected by their own history, actions, or beliefs?
Two Books We Can't Wait For You to Read (27:00)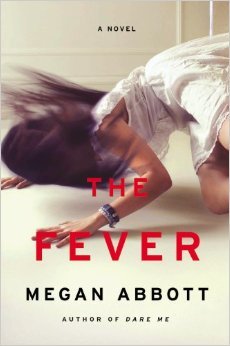 I recommend Byrd, by Kim Church, one of our Booktopia Asheville authors. It's a book Ann read early on and loved, and I also think it's simply wonderful. It's the story of Addie Lockwood and unexpected pregnancy that forever alters her life.
Ann recommends The Fever by Megan Abbott, the story of the Nash family: father Tom, son Eli, and daughter Deenie. Deenie's group of friends are dealing with all of the usual trials of teenagehood when a mysterious illness starts to afflict them.