Podcast: Play in new window | Download (Duration: 38:01 — 34.8MB)
Subscribe: iTunes | Android | RSS
The many jobs you can have around books. We recommend The Half Brother by Holly LeCraw, and The Sculptor by Scott McCloud.
Audiobook of the week (02:34)
Hounded (Book One of the Iron Druid Chronicles) by Kevin Hearne, narrated by Luke Daniels, is my pick for this week's Audiobooks.com Audiobook of the Week.
Special thanks to Audiobooks.com for sponsoring this episode of Books on the Nightstand.
Audiobooks.com allows you to listen to over 40,000 audiobooks, instantly, wherever you are, and the first one is free. Download or stream any book directly to your Apple or Android device. Sign up for a free 30-day trial and free audiobook download by going to www.audiobooks.com/freebook
Our Most Frequently Asked Question (07:10)
Listener Corey asked two questions: How did Ann and I get our jobs? and What are some possible jobs involving books? For the first question, the short answers are: Ann graduated with three majors including magazine journalism, had trouble finding a job, and was placed at Dell Publishing where she saw a poster celebrating 25 years of Yearling Books. After seeing so many of her childhood favorites on there, she knew she wanted to stick around. I've worked in bookstores since I was 15, eventually ending up as a buyer for a bookstore where I worked with and got to know publishers' sales reps. When one of the Random House reps left, the other one recommended me for the job.
Corey's second question is a big one. A recent post on the Reading Rainbow blog describes jobs and hobbies that will surround you with books. They list many options. One of the jobs they list is "Publisher," and Ann and I are able to expand on that one listing quite a bit. There are countless jobs within publishing itself, and as the industry and technologies evolve, there are new types of jobs being created all the time.
There are also many publishing courses (some Master's degree and some Summer class) available from colleges and universities: The ones we mention are:
Two Books We Can't Wait For You to Read (30:28)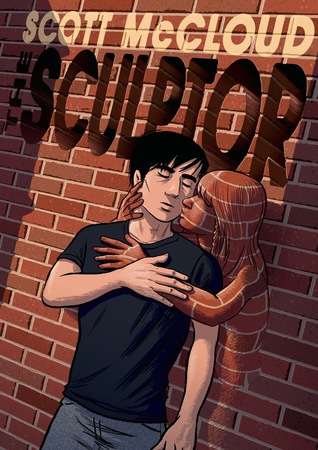 Holly LeCraw's The Half Brother follows Charlie Garrett, a teacher at a New England prep school, who falls in love with the headmaster's daughter. They end their relationship, but things come to a head ten years later when she returns to campus just as Charlie's magnetic half-brother begins teaching.
The Sculptor by Scott McCloud is a new addition to my all-time favorite graphic novels, and will surely be one of my favorite books of 2015. Struggling sculptor David Smith makes a deal with Death: in exchange for unfettered control over materials, David will die in 200 days. What happens when inspiration still doesn't strike, but love does?