Podcast: Play in new window | Download (Duration: 32:44 — 30.0MB)
Subscribe: iTunes | Android | RSS
Download your BOTNS Summer Bingo card. Michael commits to reading 13 short stories this summer. And we recommend The Knockoff by Lucy Sykes & Jo Piazza, and Girl at War by Sara Novic.
Memorial Day is this weekend, so it's time to get your BOTNS Summer Bingo card, which can be downloaded here. The Bingo game will run Memorial Day (May 25) – Labor Day (September 7), and, as in the past, the rules are pretty much up to you (five-in-a-row, four corners, how to use the Free Space, etc.). We've set up a folder on our Goodreads group where you can share ideas and ask for book suggestions for specific squares. We've gotten some discussion threads started, but if you don't see the square you need help with, start a new discussion thread in that folder, with the square topic as the title.
Happy summer reading, and have fun!
Audiobook of the week (11:42)
The Mapmaker's Children by Sarah McCoy, told by multiple narrators, is my pick for this week's Audiobooks.com Audiobook of the Week.
Special thanks to Audiobooks.com for sponsoring this episode of Books on the Nightstand.
Audiobooks.com allows you to listen to over 60,000 audiobooks, instantly, wherever you are, and the first one is free. Download or stream any book directly to your Apple or Android device. Sign up for a free 30-day trial and free audiobook download by going to www.audiobooks.com/freebook
Michael Actually Commits to a Reading Challenge (16:47)
Despite loving my recent freedom from reading challenges, I have found a list of 13 short stories that I plan to read this summer. They are billed as stories with shocking twists, but I'm primarily drawn to the list because it will fill in some embarrassing gaps in my short story reading: I've never read "A Good Man is Hard to Find" by Flannery O'Connor, or anything by James Thurber or Alice Munro, or any of J.D. Salinger's short stories. Clearly, I've got some catching up to do, and I intend to do it this summer. Check the list out and see if there are any (or all?) on here that you'd like to read as well!
Two Books We Can't Wait For You to Read (22:44)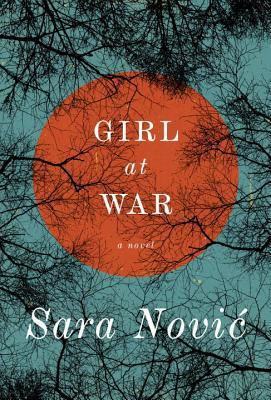 Ann recommends something that is not dark and depressing! The Knockoff by Lucy Sykes & Jo Piazza is a smart, snarky, and funny novel about the editor-in-chief of a fashion magazine who returns from six months of medical leave to find that her former assistant, a digital and social media-savvy twenty-something, is now in charge.
Girl at War by Sara Nović is the beautiful and heartbreaking tale of a 10-year-old girl witnessing the start of the Croatian War of Independence, as well as the story of her life as an adult in America, still haunted by what she saw and did, and who she lost.