Podcast: Play in new window | Download (Duration: 41:20 — 37.8MB)
A book to read if you're obsessed with the Serial podcast; we answer several of your questions; and two (uh, three) books we can't wait for you to read.
As a follow-up to our recent discussion of the Serial podcast, I want to call your attention to The Journalist and the Murder by Janet Malcolm. This book should appeal to Serial listeners, as it looks at the ethical issues of journalists and writers covering true crime cases and, in many cases, getting close with suspects.
Audiobook of the week (05:13)
 The Organized Mind by Daniel J. Levitin, narrated by Luke Daniels, is my pick for this week's Audiobooks.com Audiobook of the Week.
Special thanks to Audiobooks.com for sponsoring this episode of Books on the Nightstand.
Audiobooks.com allows you to listen to over 40,000 audiobooks, instantly, wherever you are, and the first one is free. Download or stream any book directly to your Apple or Android device. Sign up for a free 30-day trial and free audiobook download by going to www.audiobooks.com/freebook
The Crowd-sourced episode (10:21):
This week, we tackle some of our questions, including "can I spam you?" (No.) Please feel free to submit your own questions, and listen for our answers on a future episode. Thanks to all who sent in questions!
Other topics include bookstores' staff recommendations sections; publishers and imprints we follow (list below); books with too little information on the jacket; sequels, trilogies and series; what to read for a readathon, and how to find time to read when you have young children.
Small presses mentioned:
Engine Books and their new Young Adult imprint, Lacewing Books
Rose Metal Press for flash fiction (more on flash fiction in an upcoming episode).
E-short prequels to Jodi Picolut's Leaving Time; currently, these are in ebook only:
Two Three books we can't wait for you to read (32:54):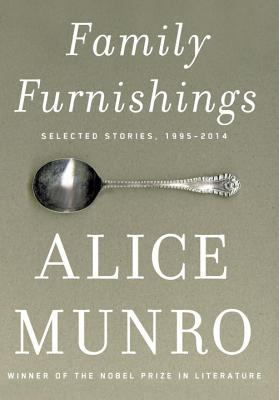 Michael continues his journey into mindfulness and meditation with two recommendations (he justifies it because they are small):  Sit Like A Buddha by Lodro Rinzler and Mindfulness on the Go by Jan Chozen Bays.
My recommendation this week is Family Furnishings: Selected Stories, 1995-2014  by Alice Munro, a collection of 24 selected stories from Munro's past six collections.