Sep 9, 2015
More love for Wonder, our BOTNS Bingo results, and two books we can't wait for you to read.
Michael's son, a reluctant reader, has fallen in love with Wonder by RJ Palacio. This is a book that we think everyone should read, but the fact that reluctant readers are also loving it makes it even more special. Auggie & Me: Three Wonder Stories, a new book that features perspectives on Auggie and the events of Wonder from 3 different characters, is newly out. Wonder is the perfect book for "All School Reads" and "One Book, One Community" reading programs. It's also a great read for adults, so don't pass Wonder by just because you think it's for kids. It really is for everyone.
Bingo? Not! (13:17):
Labor Day marks the official end of Books on the Nightstand Bingo (but you can keep playing). Truthfully, it was something of a failure for us both. Michael came very close (and I did not). Regardless, we both had a good time playing, and realize that because we have more requirements placed on our reading than many people do. I do love that so many of you enjoyed it, though, and we are definitely going to do it next year.
Michael was very successful in his "free square" experiment: reading all 13 stories listed in "Thirteen Short Stories that Will Blow Your Mind." A few stories Michael really liked: "The Most Dangerous Game," by Richard Connell and "Zombie" by Chuck Palahniuk.
Michael also had the square "Manga," and enjoyed pushing his boundaries with Buddha by Osamu Tezuka. This discussion led to a discussion of Manga vs. Graphic Novels, and Michael mentioned that this was discussed on an episode of the Good Job Brain podcast. So check that out if you want more information.
(Also in this discussion: a tease about Gillian Flynn's new novel, coming later this fall).
Two books we can't wait for you to read (27:45):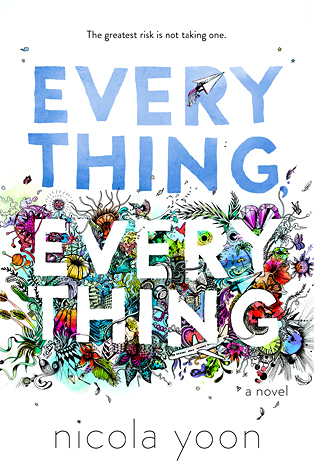 Michael recommends Out on the Wire: Uncovering the Secrets of Radio's New Masters of Story with Ira Glass by Jessica Abel, which Michael describes as "graphic novel journalism." It's about radio now, and narrative journalism like you would hear on the podcast This American Life, Planet Money, The Moth, etc. Abel had access to behind the scenes of many of those shows to learn how the shows are created. Abel is also starting a podcast, which you might want to check out.
I recommend Everything, Everything by Nicola Yoon. It's a young adult novel that I really loved. I don't want to say too much about it, because you really should go into this book without knowing too much about it. All I'll say is that the main character is a teenage girl who suffers from debilitating allergies that require her to stay inside of her home. Do read it, and if you have teens, definitely put it into their hands!